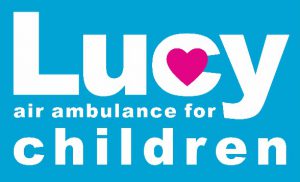 Joint Captains of Horsforth Golf Club, Paul and Carole Edmondson raised over £5,000 last weekend for a charity very close to their hearts: Lucy Air Ambulance for Children (Lucy AAC)! This family's fantastic fundraising began with a well-attended Fashion Show held on Friday evening at the golf club, raising £560. This was followed by a fabulous Family Fun Day which was kindly sponsored by CBRE and Nuffield Health, raising £5,095.22.
The charity flew their premature grandson Charlie from Plymouth University Hospital to St James's University Hospital in Leeds when he had neonatal complications which required specialist treatment closer to home.
Leeds has become an important hub for the charity, with many children being flown long distances to and from hospitals throughout the UK. Lucy AAC was delighted to welcome five families of local children who have benefitted from this charitable service and are now all honorary members of the Lucy AAC family. This event fell at the end of National Air Ambulance Week and provided a great opportunity to thank supporters and also to celebrate the 10th Anniversary of the first Lucy Air Ambulance flight.
Special thanks go to Paul and Carole Edmondson, James and Amy Barrett, the ladies from the golf club who kindly volunteered on both Friday and Saturday, Caroline from Moo Music who kept the youngsters entertained throughout the day, Morrisons Horsforth for food donations and a hamper, Kimberley Smith from KS Early Years, Nicola Senior from Baby Sensory, Greggs for food donations, Tom Howard, Monodraught, Albion Valves UK and SBS for the wonderful raffle prizes.
Lucy Air Ambulance for Children is the only charity in the UK that flies children to hospital by aeroplane. This ensures that children can receive the specialist care and treatment they need, wherever they are in the UK. The average Lucy AAC flight is 300 miles and takes 60 minutes. Planes can fly the length and breadth of the country, making it the safest and quickest way for seriously ill children to travel long distances between hospitals. During the pandemic it has been exceptionally difficult for the charity, with all community fundraising opportunities cancelled but demand for their service still rising. This charity is being asked to fly more children than ever before and after an extraordinarily busy few months, they are still experiencing a huge increase in demand for their service. This increased demand is difficult for the charity to sustain as they rely solely on the generosity of public and corporate donations.
Lucy AAC is a small, national charity comprising a team of just four who are passionate about changing children's lives and are always looking for more ways to grow the charity. They believe every child deserves the right treatment, in the right place, at the right time. Your support can make that happen. For more information or to see how you can support the charity visit www.lucyaac.org.uk.